Archer Dental Little Italy
583 College Street, Toronto, ON, M6G 1B1
Call: (416) 923-5677 or Email this clinic
Archer Dental Little Italy, located at 583 College St in the heart of Toronto's Little Italy, Canada's largest Italian Canadian cultural district. The neighbourhood is famous for its restaurants, cafes and culinary street festivals and is the largest 'Little Italy' in Canada. Archer Dental's mission to advance dental care in our changing world is very apparent in our Little Italy location, with this facility having the best modern equipment and Toronto's most exceptional staff.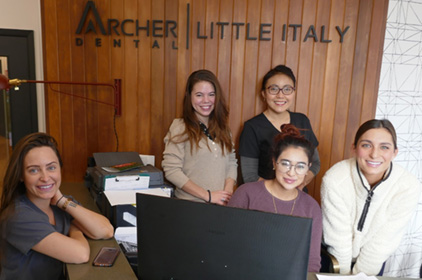 Business Hours:
Monday: 9am – 7pm
Tuesday: 9am – 7pm
Wednesday: 9am – 7pm
Thursday: 9am – 6pm
Friday: 9am – 4pm
Saturday: Closed
Sunday: Closed
---
Archer Dental Little Italy is a family friendly dental office in the heart of the Italian cultural district of Toronto. This neighbourhood is part of the largest Italian-Canadian community in the nation. The businesses along this thoroughfare, from Bathurst to Dufferin have a distinct Mediterranean flavour and impart Old World goodness and charm. These are family businesses, and they really come alive in the summer to celebrate Italian sports and and all aspects of their Neapolitan culture. Right outside our front door, the names of three dozen famous Italian Canadians have been laid down in cement in an Italian Walk of Fame!
Archer Dental Little Italy is proud to be on-the-scene here, and present on this stylish street. We have assembled some of the most up-to-date dental equipment imaginable inside our newly renovated facility, and our staff is second to none with regards to our experience, skills and passion.
Archer Dental plays a Prominent Role in Toronto's Little Italy Community
Few Canadian neighbourhoods are as well known or frequently visited as Little Italy in Toronto, and few local businesses are as active in the planning and sponsorship of community related attractions and events. From the Taste of Little Italy summer parade and street festival in June through to the holiday street party in December, look for giftbags, giveaways, and prizes from Archer Dental Little Italy.