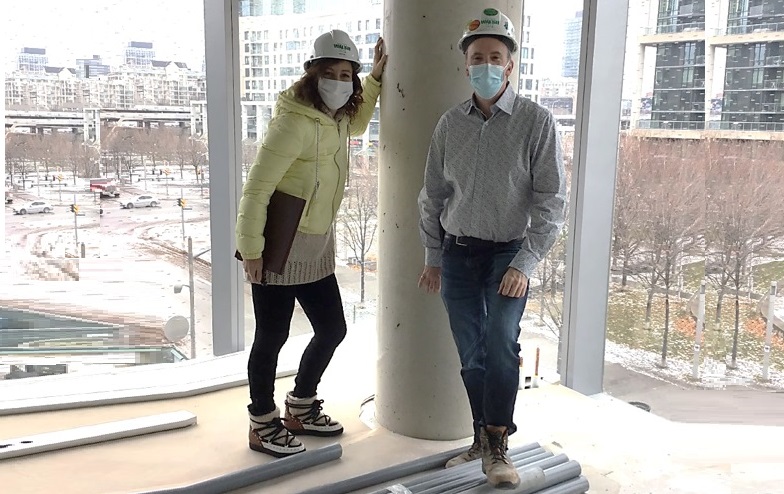 Natalie Archer DDS has shared her knowledge and experience as a pandemic dentist with the architect team at Diamond Schmitt and the builders at Walsh Canada who're working together to upgrade George Brown College's WAVE Dental clinic to be the market leader and a true innovator in dental education.
WAVE stands for Wellness, Applied Research and Visionary Education and this venue really is a model of efficiency. Completed in 2012, the WAVE Dental Clinics are where students from the Dental Hygiene, Dental Assisting, Denturism, and Restorative Dental Hygiene programs put theory into practice. The clinic offers oral health care services to the public including health and dental history, an assessment of teeth and gums, dental x-rays, teeth cleaning, preventive services, fabrication of complete or partial dentures, repairing and realigning dental devices, and fillings.
But as you can see in the 2019 photo below, WAVE oral health training facility was like most other educational settings, a clinical classroom where multiple treatments occur with faculty supervision. Covid-19 changed the landscape.

The pandemic wreaked havoc across the dental business world, and impacted education, making WAVE's wide open teaching labs limited. That's because dental hygienists have power tools which use high frequency sound and pressurized water to dislodge debris from teeth. This is an example of an aerosol-generating procedure (AGP) in which high concentrations of misty water droplets are spawned and because there is the possibility that such droplets may contain infectious viral particles, certain precautions must be taken to remove them from the atmosphere. Hence all AGP treatments are rapidly transitioning to glass-enclosed environments where the atmosphere can be more effectively cycled through air filters.
Governing bodies such as the Royal College of Dental Surgeons of Ontario (RCDSO) and the College of Dental Hygienists of Ontario (CDHO) mandate that aerosol generating procedures must occur in operatories which can contain the resultant aerosol. This requires floor-to-ceiling walls and a door (or other barriers) remain closed during and after such procedures. George Brown College worked with Walsh Canada, and Brad McCallum the Senior Project Manager worked with Natalie Archer DDS who shared her recent experience, having just created four new operatories at Archer Dental Rosedale which are glass-enclosed VIP dental pods. Natalie streamlined their proposed dental office design layouts and gave her opinions on how to best equip and manage AGP-suitable dental clinics in this unique educational environment.

Walsh Canada is contracted to deliver a ready-to-use dental clinic consisting of twenty-four dental operatories and support spaces, including medical device sterilization, storage, and administrative spaces. The new dental clinic will have raised flooring, interior glazing (windows) to allow open viewing from suite to suite, millwork, and all necessary equipment to support aerosol generating procedures that require enclosed spaces.
Accommodating this major Canadian college's advanced special equipment and tailoring spaces to their unique needs is sure to make Dr. Archer even more knowledgeable and valued as a subject matter expert in dental office design.