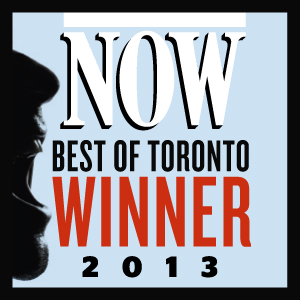 NOW Magazine reader's have voted Dr. Natalie Archer as Best Dentist in Toronto! In early spring 2013, NOW launched their annual Best Of Series – a campaign that seeks to find the best of the best in Toronto; including everything from Best Restaurant to Best Art Gallery to Best Dentist. The public was asked to nominate those they felt were deserving of being recognized as the best in their industry. Very kindly, supporters of Dr. Natalie Archer nominated her in the category of Best Dentist in Toronto.
In late June, NOW announced the short-list of nominees for Best Dentist which included Dr. Archer and the voting opened up to the public. Voters had until September 25th, 2013 to cast their ballot and today, November 7, 2013, it was announced that Dr. Archer won the award for Best Dentist in Toronto!
NOW Magazine Celebrates Best Of Toronto Winners with an Honourary Breakfast
Dr. Archer and her team attended a celebratory breakfast at the NOW offices in downtown Toronto on Thursday, November 7, 2013.
The team was treated to some delicious treats and presented with a beautiful plaque in honour of their win.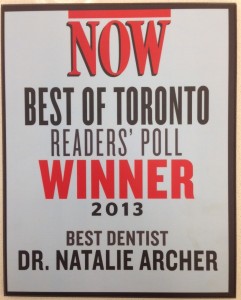 Thank You from Dr. Natalie Archer and Team
Dr. Archer would like to take this opportunity to thank all of those who voted her Best Dentist! The Archer Dental team is so grateful to be awarded with this amazing honour. We appreciate the time each and every one of you took to cast your vote and are truly humbled to be named Best Dentist.  We are committed to advancing dental care in our changing world and will continue to provide excellent patient-centred care using a responsive approach.
Dr. Natalie Archer Continues to Work Hard for Toronto

Did you know Dr. Archer is working hard to "Take the Bite Out of Elder Abuse"? Dr. Archer will continue to serve Toronto through her Dental Elder Abuse Response (D.E.A.R.) Project which is funded by the federal government's New Horizons for Seniors Program (NHSP). The project aims to raise awareness and ultimately prevent dental elder abuse and neglect.

The D.E.A.R. Project does the following:
Teaches seniors, dentists, caregivers and families to recognize dental elder abuse and neglect issues.
Develops educational materials and tools on the link between oral health and elder abuse and neglect.
Forms a network of dentists and people concerned about dental elder abuse and neglect across Canada.
Currently, Dr. Archer and the D.E.A.R. Team are working hard to develop educational materials, deliver workshops and raise awareness to fight dental elder abuse! Check back soon for more updates on the D.E.A.R. project!