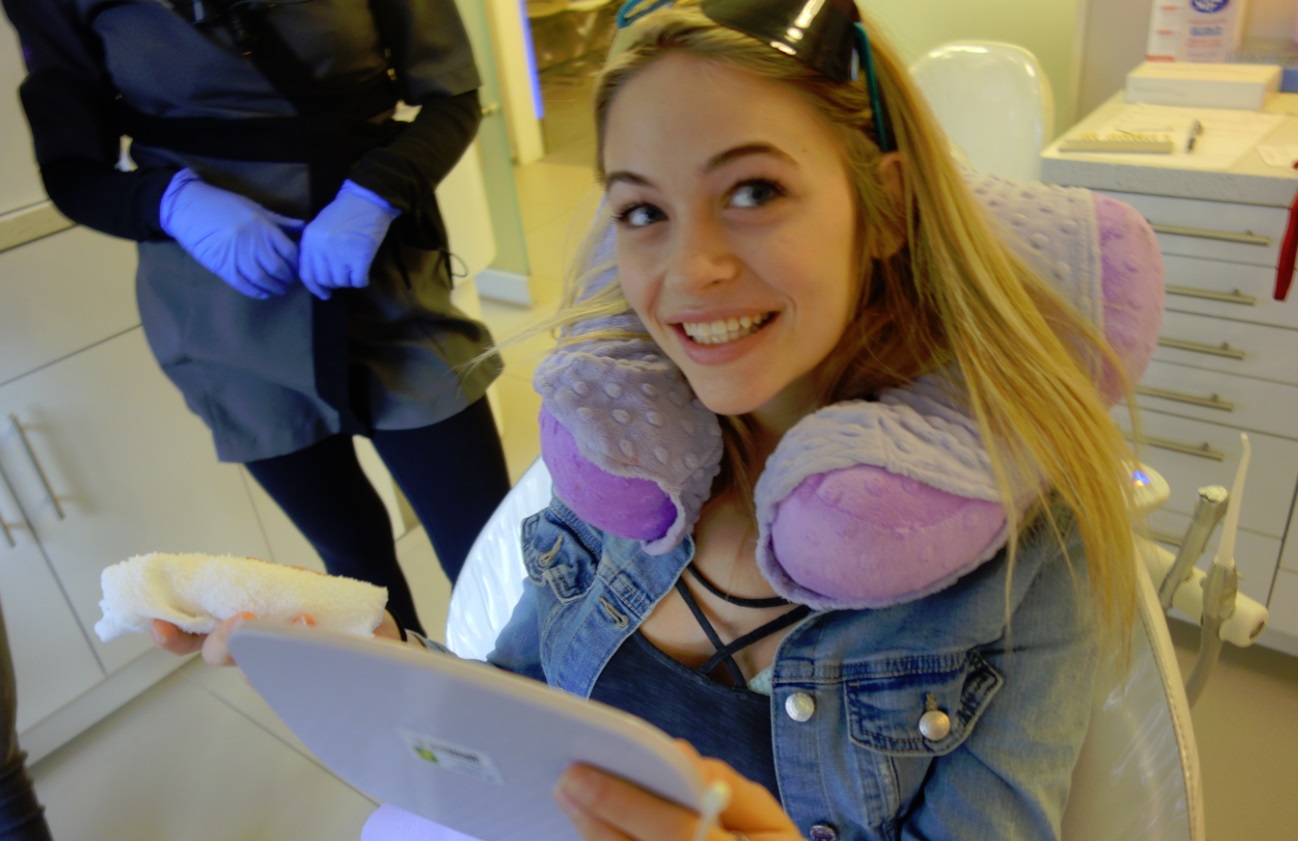 The staff at Archer Dental Rosedale office got quite the surprise when 17 year old Cynthia Menard came in for an appointment on Monday the 22nd October, 2017.
2017 Miss World Canada – Cynthia Menard stopped by for a dental check-up, teeth cleaning and teeth whitening at Archer Dental as part of her preparation to fly to Sanya, China for the Miss World 2017 beauty pageant (the biggest beauty pageant on the planet.)
One of our dental hygienists, Christina, worked with Cynthia the whole way doing a comprehensive cleaning and then guiding her through the teeth whitening process. Due to her hectic schedule after winning her crown in July, and because she had been so busy for many months beforehand, Cynthia had not been to the dentist in over a year. Christina the dental hygienist worked with her to achieve a cleaner, fresher, and brighter smile.
Our front desk staff were proud of themselves that morning and felt lucky they were able to fit Cynthia in that day. But let's face facts; this wasn't really what we would consider an emergency.  Canada's Miss World delegate already has a winning smile. So we signed on to help polish and make perfect our nations' representative in a competition where every little thing matters, and having bright white teeth is critical.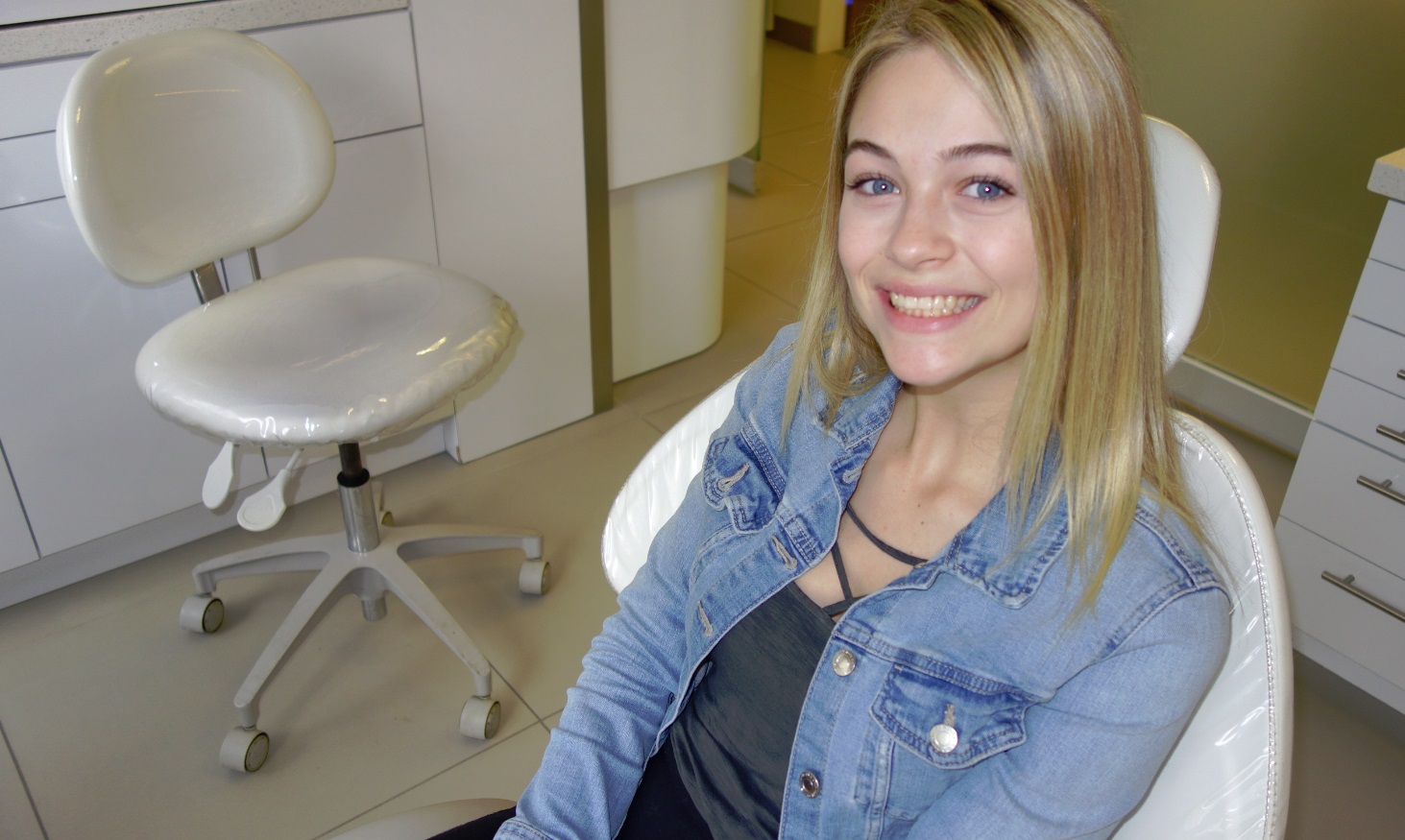 And yes this busy young woman had a very hectic schedule and couldn't spend more than a few hours with us that morning. Not five minutes after she'd been seated for her appointment, she got a call from the pageant administrators hoping to orchestrate the rest of her day. After her teeth whitening, Cynthia was scheduled to to pick up a mobile make-up kit from MAC Cosmetics in Yorkville to ensure she'll look her best in Toronto, China and everywhere in between.  After that she was to meet with Helene Clarkson (a famous Canadian clothing designer donating her signature 'traveler's clothes') and then attend one final singing lesson at a local music school to polish her vocal performance.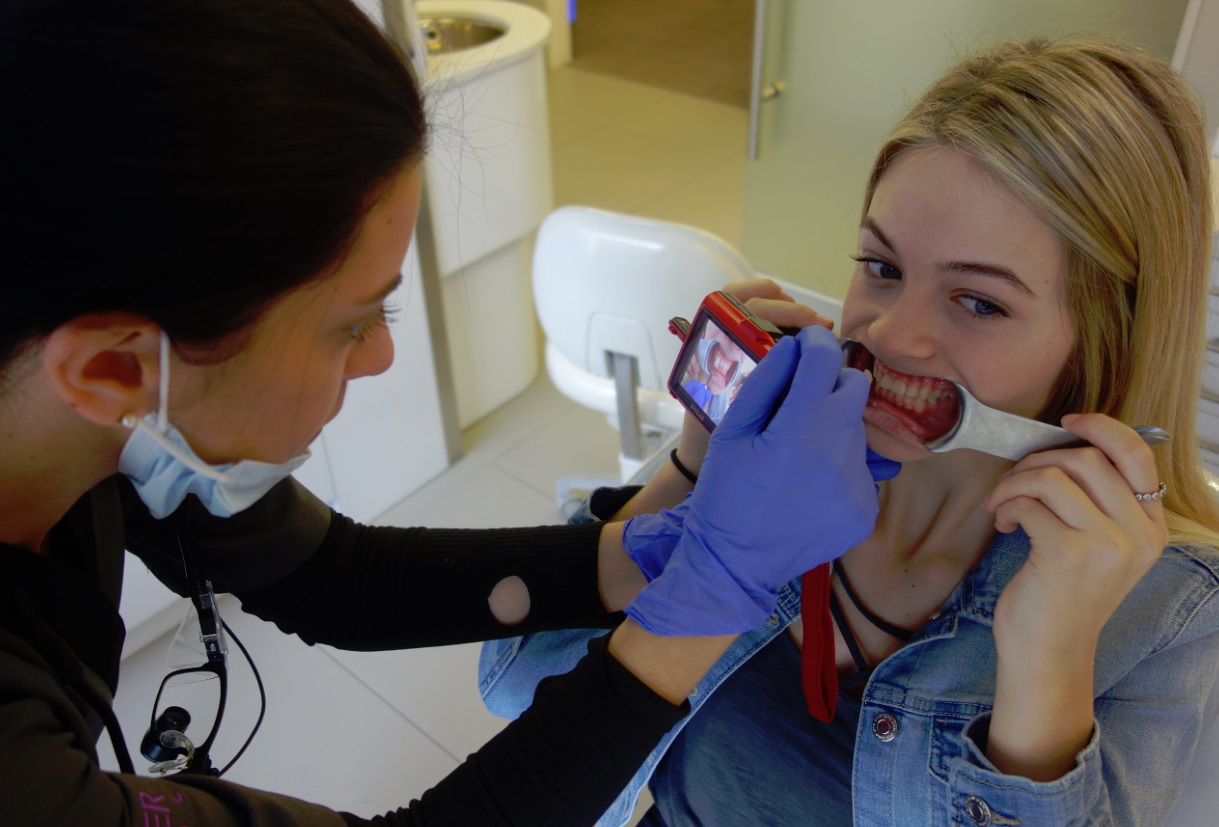 Cynthia's visit lasted over three hours but she remained chipper and in bright spirits throughout the procedure. Christina the dental hygienist wanted to make sure that Cynthia's primary request (she wanted to brighten the natural pale yellow colour of the dentine of her teeth) was remedied as professionally and effectively as possible. Christina examined Cynthia's teeth and matched her natural colour to one in the Vita Classical Shade Guide, the most ubiquitous tool used for tooth-shade analysis in the world. Using this gauge, Christina gave Cynthia a good idea of what her teeth would look like after they'd been whitened.
Miss World Canada had two Teeth Whitening Options at Archer Dental. She Chose Both.
Dental patients seeking teeth whitening at Archer Dental have two options: the Venus White Pro whitening trays for use at home, or the Venus Whitening Max (an in-house procedure using photo-activated chemical processes). Cynthia got both treatments.
The Venus White Pro take-home whitening solution requires dental impressions to be taken at a dental office. A dental lab then creates special form-fitting whitening trays for each individual consumer's at-home use. The carbamide peroxide whitening gel in the kits is available in concentrations of 16%, 22% and 35%. The chemical process removes stains and whitens tooth enamel after repeated applications over time (but should be used for no longer than two weeks.)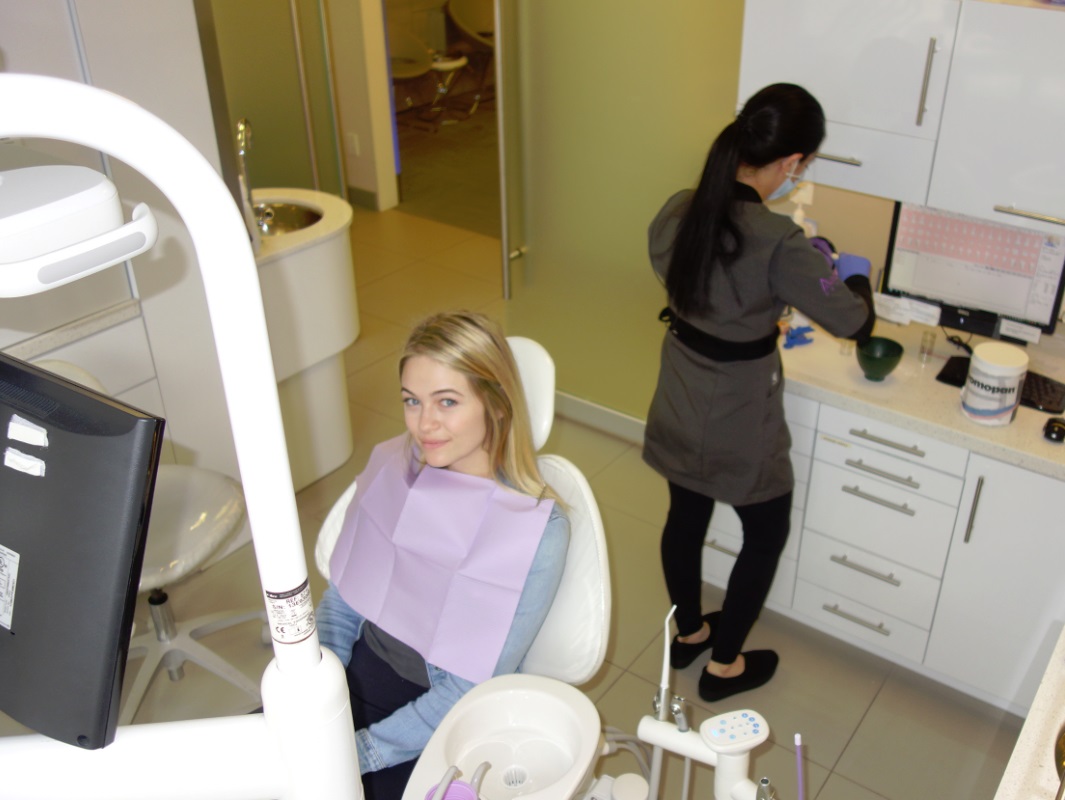 Christina explained the Venus White Pro whitening product to Cynthia and informed her that there could be sensitivity during and after the whitening procedure. Christina also told Cynthia that there's always a possibility for gum tissues to look and feel blanched after the treatment. If this were to happen, Cynthia was advised to apply vitamin E oil to the affected areas. For best results, Venus White Pro should be used with custom whitening trays for about ten days, after which most patients report results of noticeably whiter teeth!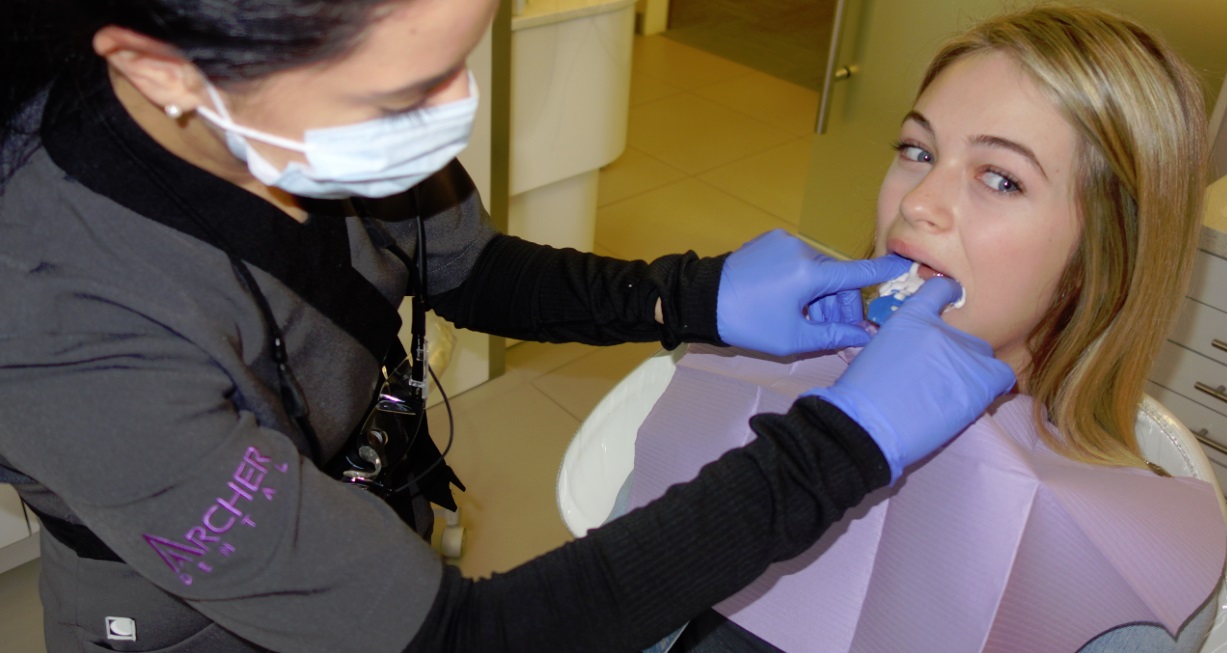 Dental impressions were completed for Cynthia's upper and lower teeth by using small plastic shovels filled with fast drying silicon clay known as 'alginate impression set-up'. The small pan was placed into Cynthia's mouth and the resulting impression left behind becomes a mold from which a sculpture of Cynthia's teeth will be cast. The resulting casts will be used to create Cynthia's customized dental trays.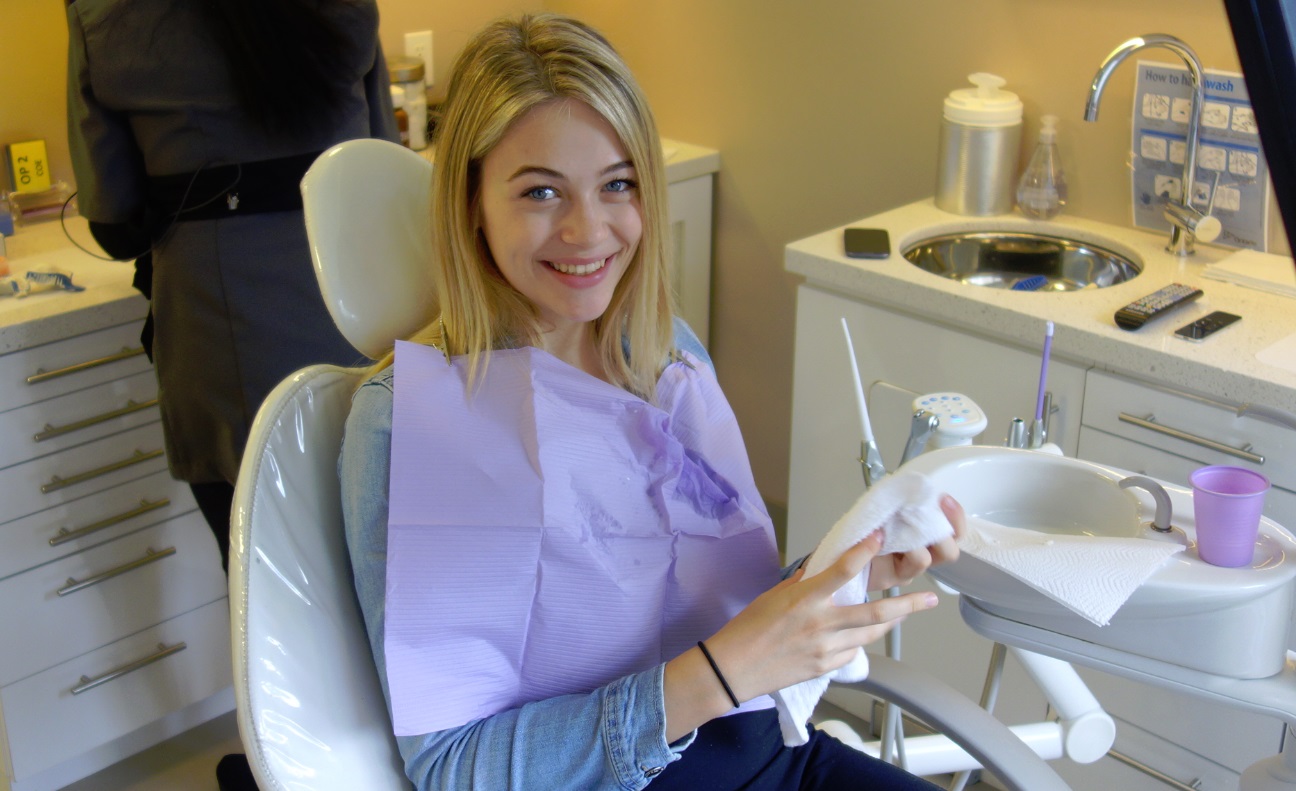 Once the dental impressions were done and Cynthia had rinsed the last bits of the alginate gel from her mouth, Christina got ready to begin Round Two.
Comprehensive Teeth Cleaning Happens Before Venus Whitening
Christina made sure to clean and polish all of Cynthia's teeth with Prophy Paste before whitening them to remove any plaque buildup and to address existing stains. Prophy Paste is a pumice-based prophylaxis dentist super toothpaste which is used to clean and polish enamel.
After polishing Cynthia's smile, Christina flossed all of her teeth with a satin finish Oral B floss.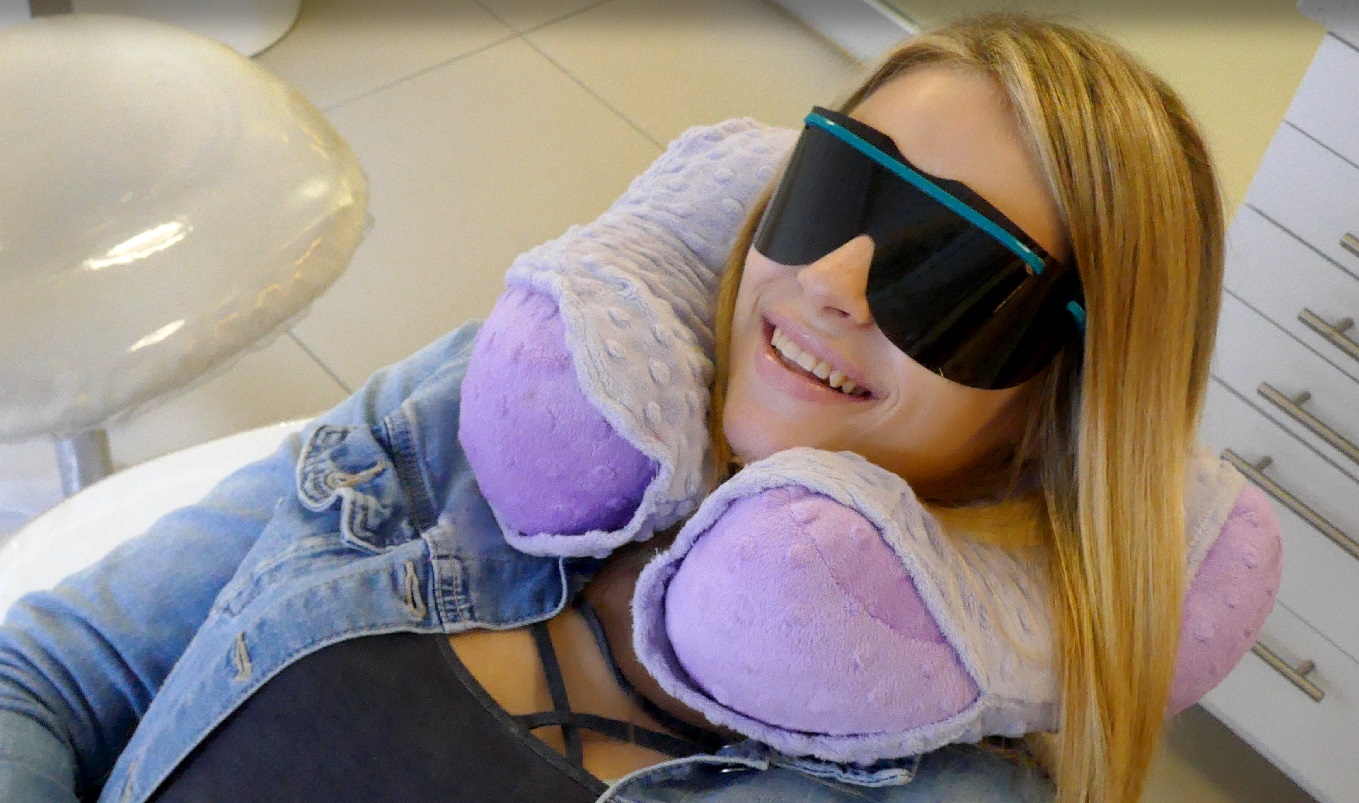 She then gave her a set of futuristic looking protective glasses and it became clear something exciting was going to happen next.
Cristina placed a small cheek retractor in Cynthia's mouth to ensure she had full access to her teeth.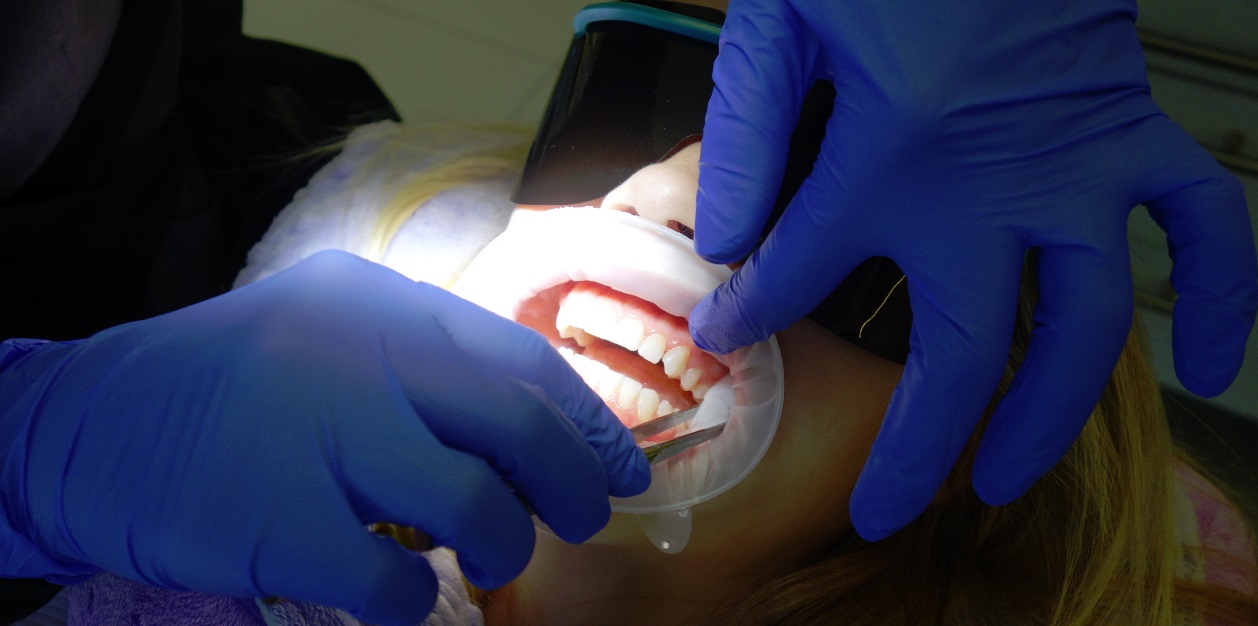 Christina then put an OptraGate protective barrier around the retractor to shield the area around her mouth. Cynthia was now ready for the whitening process to begin.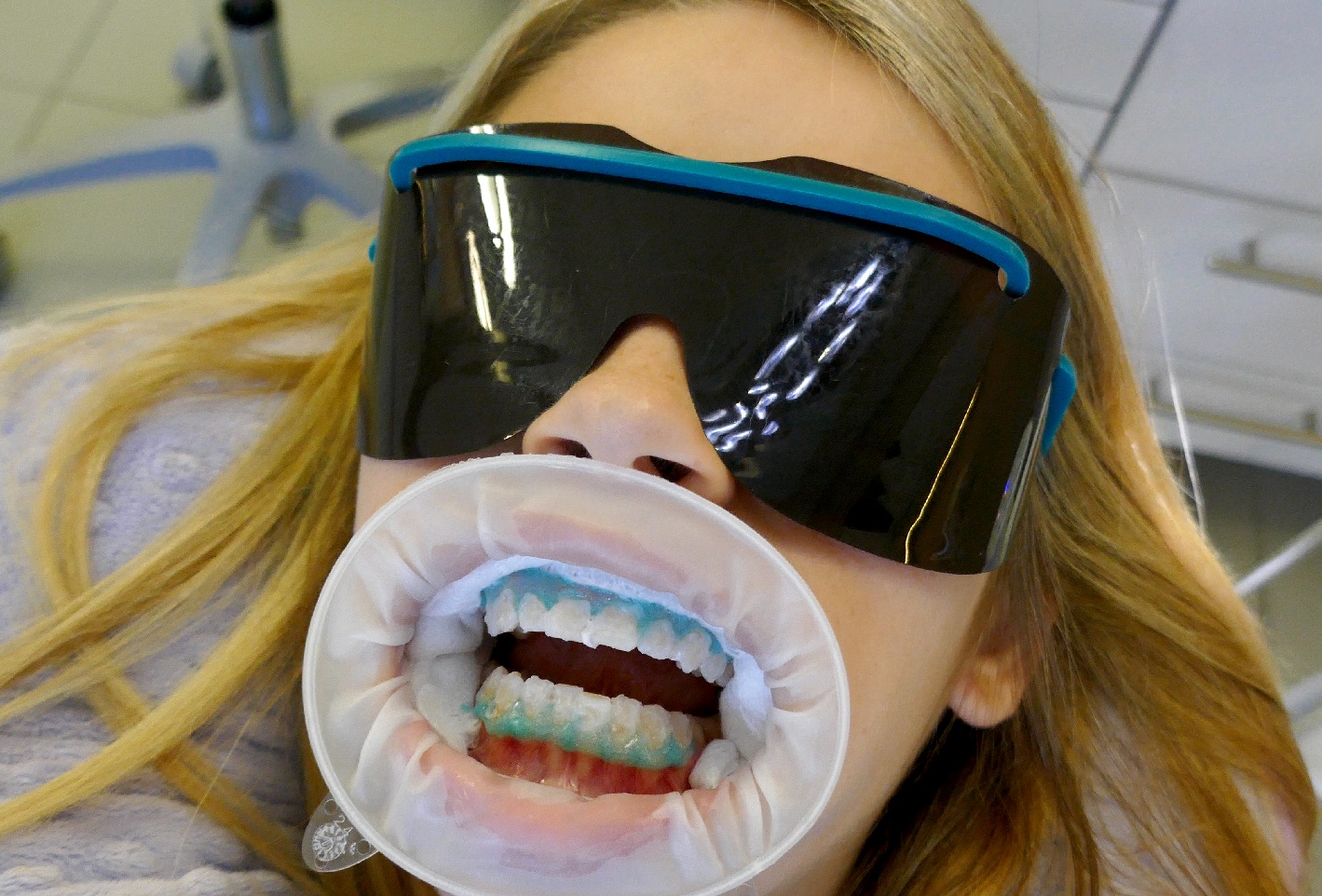 Aware that Cynthia was about to travel overseas with the express purpose of smiling for the (many, many) cameras, Christina took precautions to ensure that Cynthia's gums remained healthy and were protected from the whitening gel. Christina applied a temporary 'gingival barrier' between the teeth and the gums to protect the gum tissues during the whitening process.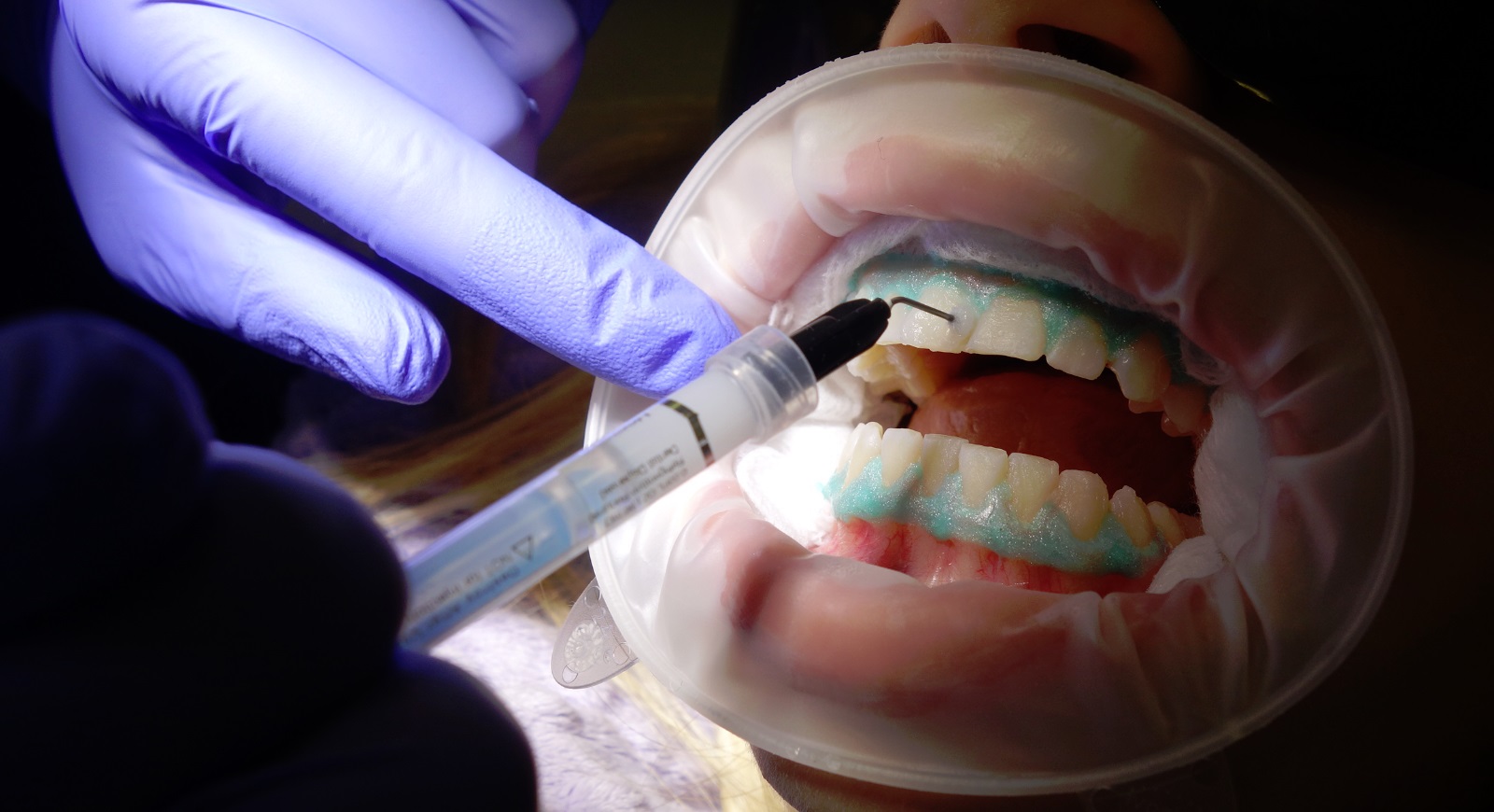 Here is what photo activated teeth whitening looks like close up!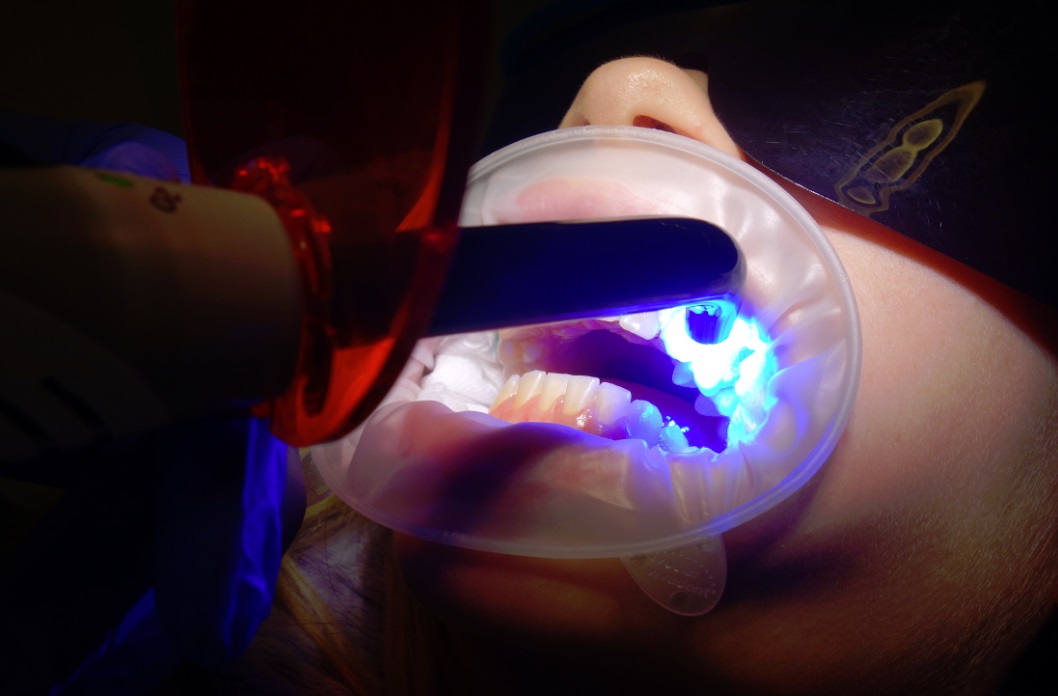 Christina used a 38% Hydrogen peroxide mix on Cynthia's teeth in four 15 minute back-to-back sessions of photo-activated whitening. Cynthia had no sensitivity during treatment and was quite comfortable, giving the camera a big thumbs-up at the end of the fourth treatment!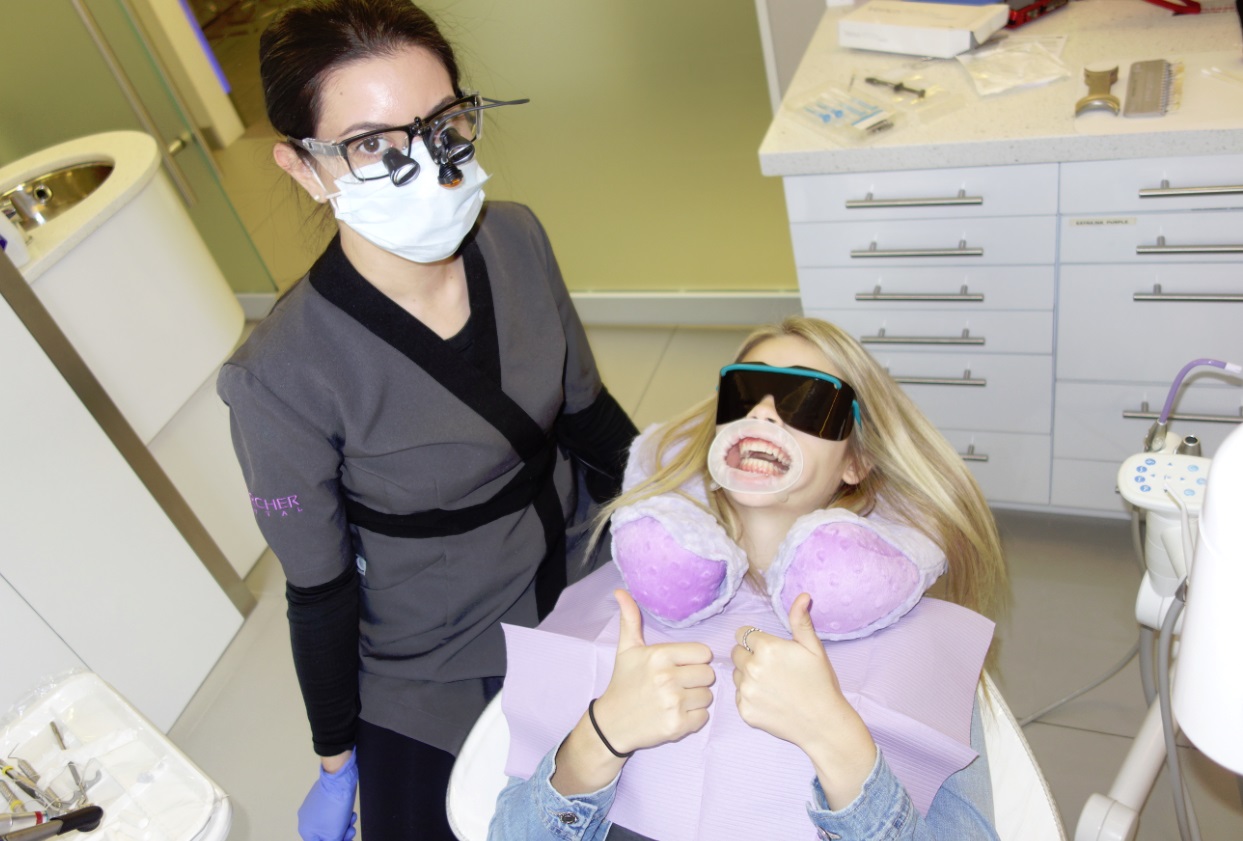 And there was lots of laughing and good cheer. Before leaving, Christina gave Cynthia some final instructions: no coloured foods, take an Advil if needed, and use Sensodyne for any sensitivity.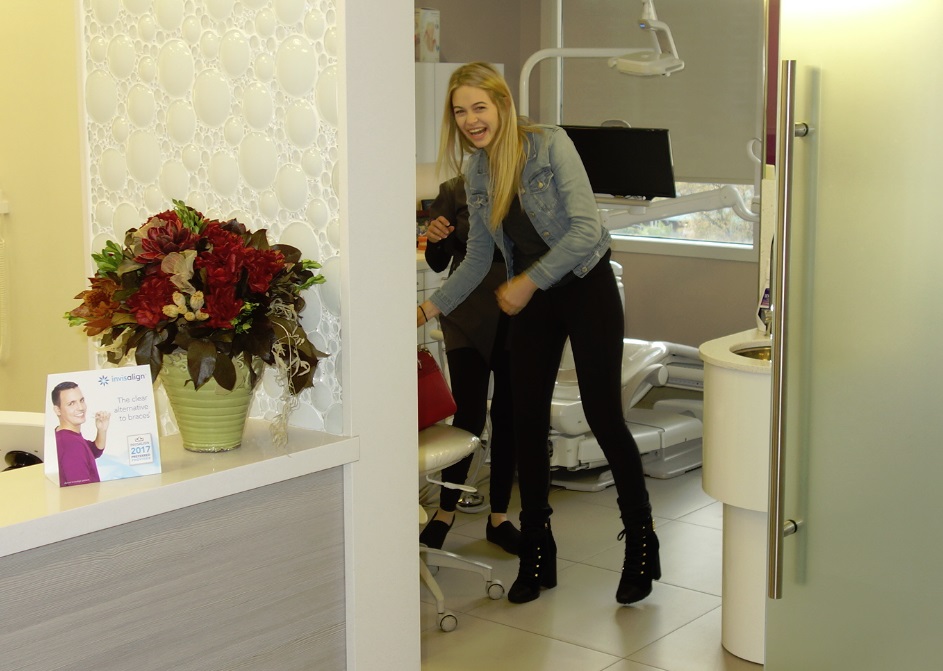 Good luck to Cynthia at the 2017 Miss World competition in Sanya, China! All of us at Archer Dental will be cheering you on from Toronto!