Human saliva has been linked to general health & wellness ever since Aeschylus, the ancient Greek tragedian penned, in 455 BCE, "I have learned to hate all traitors, and there is no disease that I spit on more than treachery."  When everyday acids erode your teeth and cause cavities, it feels like treachery!  It causes sufferers to wonder if they're cursed somehow; all their brushing and flossing seems to be in vain as regular check-ups continually discover new issues.  Well of course they are not cursed, or destined to suffer regardless of their efforts, these people may have chemically imbalanced mouths and for the reasons we discuss below, they have slipped out of their natural homeostasis.
What is Homeostasis?
The concept of the regulation of the internal environment was described by French physiologist Claude Bernard in 1865, but the word homeostasis which we still use today, was coined by American physiologist Walter Cannon in his ground-breaking 1926 book, The Wisdom of the Body. He defined the term as the human body's ability to regulate certain factors like its own internal temperature and the concentration of lubricating substances like tears and sweat.  At Archer Dental we look for signs the body is manufacturing enough saliva, the lubrication for teeth, and whether or not it exists at the correct pH balance. Measuring and regulating the pH level of tears, tissue, hair, urine and saliva can yield important insights into patients' medical heath.  Each of these fluids, including your blood, can tell stories about what's happening inside your human body.  At Archer Dental we're concerned primarily with your oral heath, but in a more holistic perspective we do try to make ourselves aware of each patient's general homeostasis.
In biology, homeostasis is the state of steady internal physical and chemical conditions maintained by living systems. This dynamic state of equilibrium is the condition of optimal functioning for the organism and includes many variables, such as body temperature and fluid balance, being kept within certain preset limits (homeostatic range). Other variables include the pH of extracellular fluid, the concentrations of sodium, potassium and calcium ions, as well as that of the blood sugar level, and these need to be regulated despite changes in the environment, diet, or level of activity. Each of these variables is controlled by one or more regulators or homeostatic mechanisms, which together maintain life.  The connection between oral health and general health has been proven.  In the year 2000, the U.S. Surgeon General declared that oral health reflects general health and is essential to achieve a state of wellness.
What Makes A Healthy Mouth?
There are lots of bacteria and other things alive in your mouth.  That's a fact. Even after a thorough brushing and swishing with mouthwash, some some of these tiny organism will always remain. New research into the dental microbiome expands what we know about bacteria on teeth. New scientific studies show how how unhealthy mouths may be implicated in non-oral health outcomes such as heart disease and stroke.  A lot of the science explores the energy and growth environment available to the tiny organisms, and how humans inadvertently make it so easy for malign forces to multiply in their otherwise healthy mouths. The enemy thrives in acid.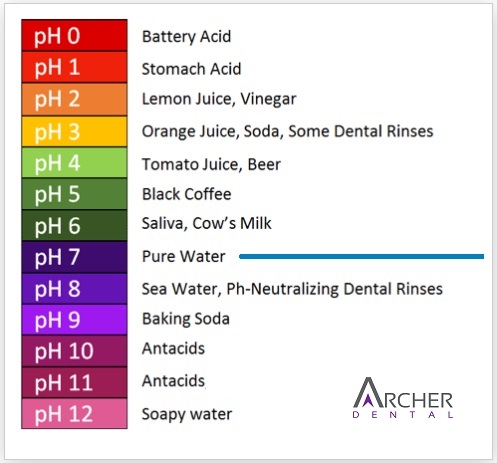 Tap water is pH level 7 which is exactly neutral; water is neither an acid nor a base.  As the numbers get smaller than 7, the substance becomes more acidic, and as they get larger than 7 (up to 14), it becomes more alkaline or basic. Saliva in a healthy mouth can range anywhere from pH 6.4 to pH 7.6. These numbers vary widely when eating foods and drinking liquids. Even a normal meal has wide pH level variances.  Cooked lean meat is quite acidic, while steamed broccoli and egg plant are very alkaline – good meals balance pH loads!  Coca cola is quite acidic, while carrot juice is the same strength alkaline.
Studying the pH level of saliva important to oral health care and there are plenty of everyday acids that we put in your mouths that can erode our teeth.  Healthy human saliva has a pH of 7.4, just like blood.  When acidic foods and beverages are consumed, the pH is tipped, creating an imbalance that demineralizes tooth enamel.  This happens when the pH levels in the mouth drop below 5.5.
Studies show, and the video embedded below chronicles in real time, how the pH level of your saliva can drop below 5.5 when drinking acidic beverages. When this happens, the acids in your mouth start to demineralize (break down) tooth enamel. If the tooth enamel becomes too thin, the dentin is exposed. This can lead to discomfort when consuming hot, cold, or sugary drinks  When teeth experience demineralization, this erosion causes a thinning of the enamel, exposing the dentin.  Dentin is bone-like, but it contains microscopic tubules that lead right to the pulp, where the nerves are.  If tooth enamel is eroded, consuming hot, cold, or sugary drinks can become quite painful.
Everyday Foods and Beverages that Affect pH Balance of Saliva
Our teeth are exposed to acid everyday. When you eat or drink something sour and it tastes tart, then you are tasting the acid.  Even when you cannot taste it, after you consume something sugary or starchy, oral bacteria eats whatever food remains in your mouth after meals and produces acid as a waste product.  Also people who suffer from strong acid reflux or who vomit regularly also expose their teeth to their own strong stomach acid, which can increase tooth decay.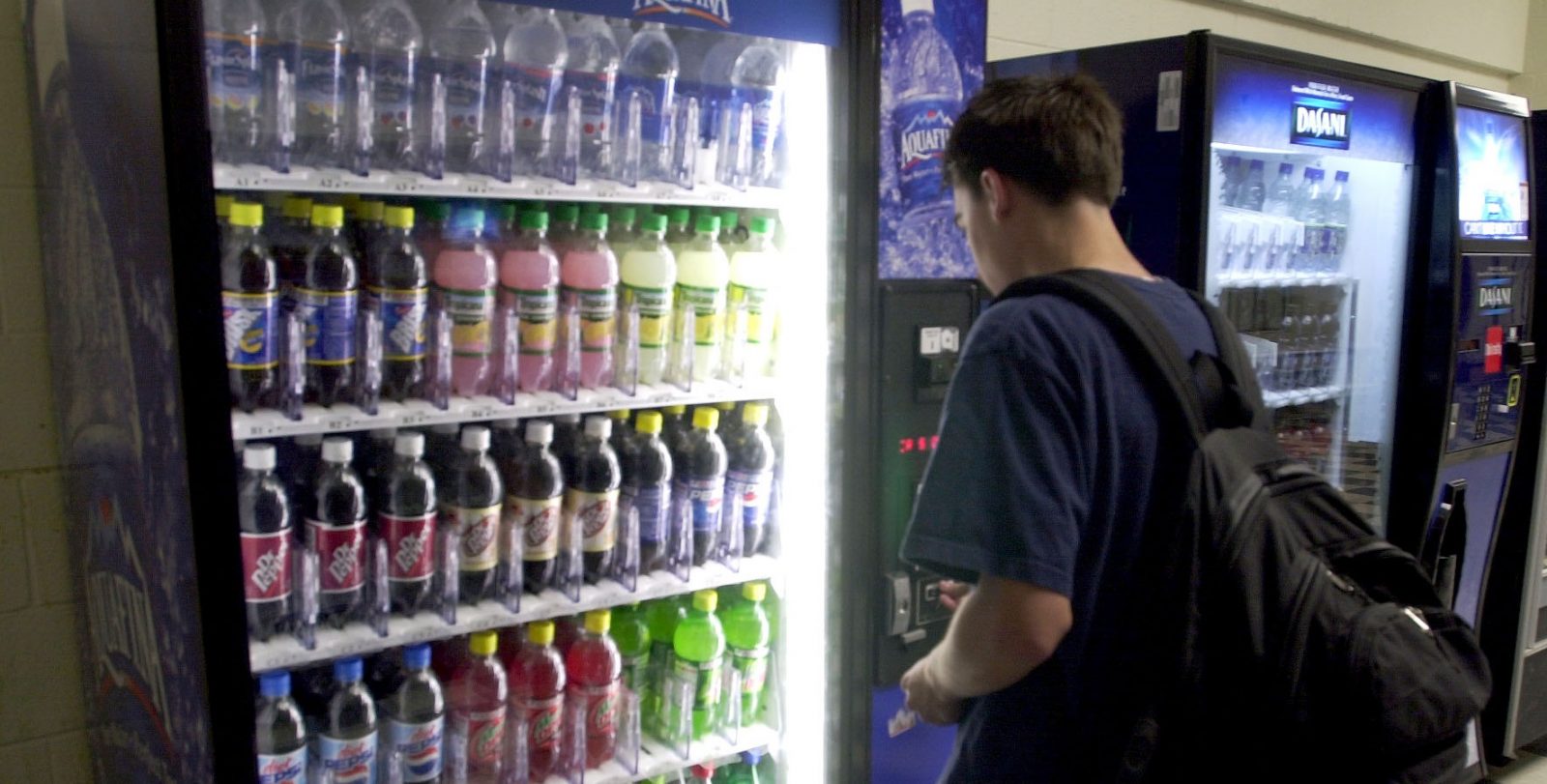 Notice that when one drinks soft drinks (pH 3) or white wine (pH 4) it feels like there are socks on the teeth, or they feel fuzzy.  That is because the pH in the mouth is not balanced. It is acidic, causing de-mineralization of the enamel.
Naturally acidic foods include citrus fruits of course, and strawberries, but you may be surprised to learn that, according to the US Food and Drug Administration, some vegetables can also be quite acidic, like green cabbage (pH 5.5) and also everyday foods like cheddar cheese (pH 5).  Cherries are particularly acidic as they register at pH 4 raw, and they're even more acidic when frozen (pH 3.32). You can read more in a recent Archer Dental blog post about healthy snacks that are surprisingly bad for your teeth.
Alkaline mineral waters can decrease bone resorption and even lower parathyroid hormone levels which regulate the release of calcium from bone. An alkaline diet is one that incorporates foods that can increase the pH levels. Interestingly, an alkaline diet is associated with an increase in growth hormone which can burn fat, improve libido, and help people retain a general sense of well-being.  Alkaline foods are harder to identify – they are not sweet or sour or tart. The best examples of alkaline food you might choose to eat are nuts, cheese, oatmeal, mangos, melons, bananas, apples, eggs, vegetables, brown rice and whole grain cereals.  We've blogged about the Dental Diet last summer.
Tooth Enamel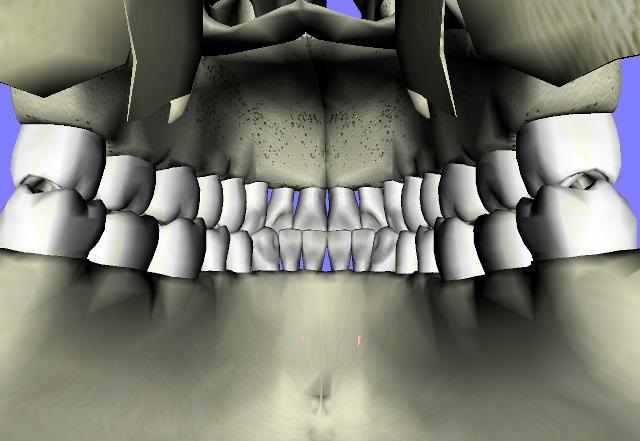 Teeth, and more specifically tooth enamel is the hardest substance produced by the human body.  Its harder than bone and claws (fingernails and toenails) and kidney stones. But unlike other body parts, it's highly susceptible to acid erosion.  All it takes is a prolonged environment of pH 5.5 or lower for the enamel on your teeth to begin dissolving.  This happens all the time, in tiny electrochemical assaults every time we put food in our mouths and eat a meal.  Once tooth enamel is damaged, it cannot be easily repaired. However, weakened enamel can be restored to some degree by improving its mineral content, and this is done by improving your diet and taking mineral supplements.  Toothpastes and mouthwashes can never rebuild teeth, but they can contribute to the body's own remineralization process.
Enamel and hard tooth structures demineralize at pH of 5 or 5.5. During the demineralization process, calcium ions from our teeth leave enamel and make them weak or porous. That is until saliva can assist saturating the enamel back to its original form.  This is another good reason why you should drink water with your meal and make sure you rinse your mouth thoroughly at the end of the meal with water and not wine or beer.  The pH level of wine ranges from 2.5 to 3.5, being quite acidic.
Saliva: The First Line Of Defense
The best natural defense our teeth have against acids is saliva, which has a pH slightly above 7. Saliva washes food particles away and helps keep oral bacteria populations in check. This is why dry mouth is such a dangerous problem for oral health. The less saliva we have, the more vulnerable our teeth are.
Sipping soda or snacking throughout the day is also a problem for our teeth, because saliva needs time to neutralize our mouths afterward, and constantly introducing more acid makes that much harder. Behavioral factors can explain why some folks have great teeth and others suffer.  Poor choices and bad eating and drinking habits lead to the excessive consumption of acids. The lifestyle and biological factors like composition of saliva, flow rate, buffering capacity, dental and soft tissue anatomy, pellicle formation, dental and soft tissue anatomy, tooth composition, can all modify the erosive process. If you are incorrigible soda pop consumer, then you really should tell your dentist. This is one of the criteria included in a recent blog post about things you should tell your dentist.
A More Alkaline Diet Will Help Your Teeth
A great way we can help out our saliva in the fight to protect our teeth, aside from the usual methods of daily brushing and flossing and regular dental appointments, is to eat fewer acidic foods and trade them for alkaline ones. That means adding in more fruits and veggies and leaving off some of the breads, dairy, and meats.