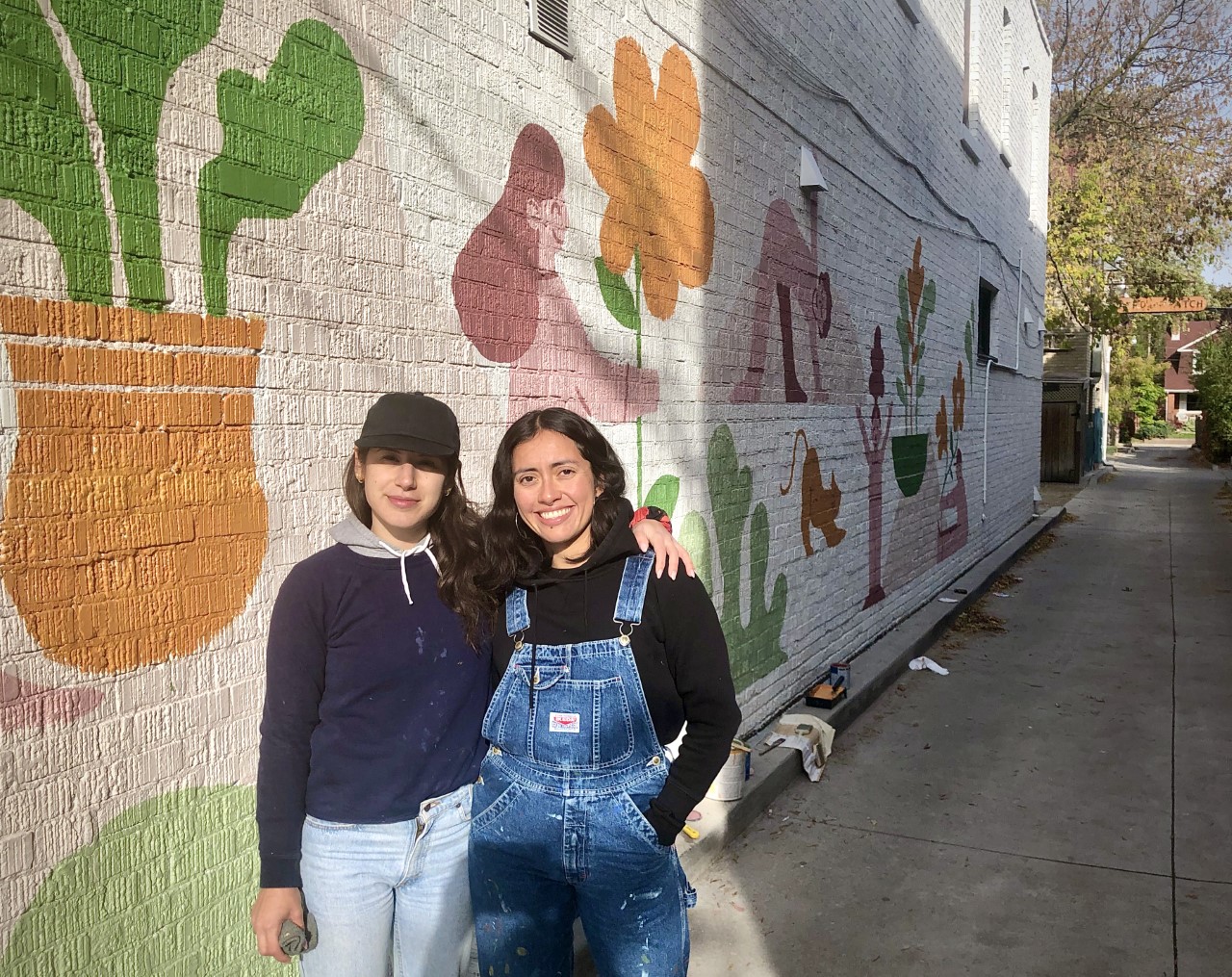 Toronto mural artist Vesna Asanovic and illustrator, Vivian Rosas 387 Jane St, Toronto 
by Thomas Care, (a neighbour, and resident of Baby Point)
It was a beautiful autumn morning in Bloor West Village, crisp and cool, when I first met Toronto artists, Vesna Asanovic and illustrator, Vivian Rosas.  I was out enjoying the season.  It's enchanting to see how the maple trees, oaks and ash tree leaves turn chimney red and Halloween orange and make huge drifts on otherwise well-manicured lawns.  Children play on these leaf coated lawns, and dog walkers lead packs of poodles in wool sweaters along safe sidewalks.  The strong smell of coffee and fresh croissants emanates from the local patisserie and fills the morning air on all three corners of Baby Point.
Mornings are quiet and peaceful in this small residential enclave at the top corner of the village, Jane and Annette, but later today it will be busy along this commercial strip. Autumn is our tourist season. This is when visitors come to our fair haven to watch the spawning salmon run the impossible hurdles that are the concrete breaks along the Humber River.  And when the people are done snapping their selfies and done making Instagram memories there, they'll stop off at The Old Mill for a warm drink by the old stone fireplace. Inside they'll listen to the soft sounds of classic Jazz, the perfect music for the season.  Autumn truly is a wonderful and magical time of year here in what is known as York, one of Toronto's original settlements.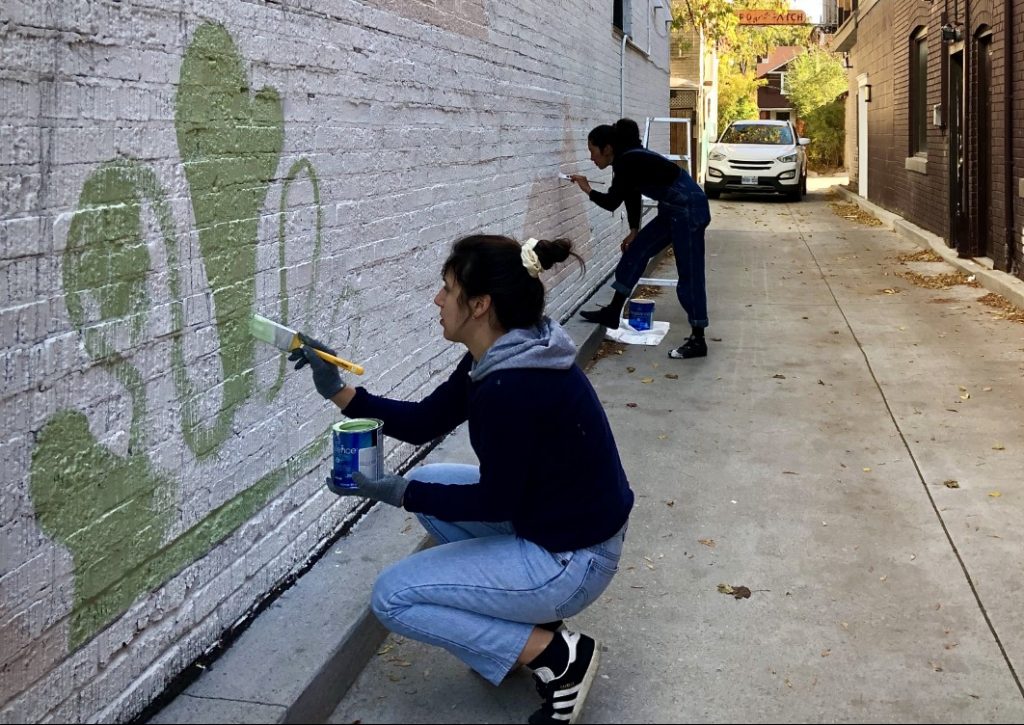 It was into this neighbourhood, immediately south of the Three Corners (Baby Point, Jane, and Annette) that Archer Dental Baby Point appeared in September 2019. The company remodeled an old building and permanently filled a cavity in our historic streetscape.  They improved the space, inside and out, and that includes the southern exterior wall of the building which runs along an narrow alley that links Jane St. to the rear alley behind the old two-story brick homes of Armadale Ave.  When Archer Dental bought the two story brick building at 387 Jane St., they also became the caretakers of this tall south-facing wall.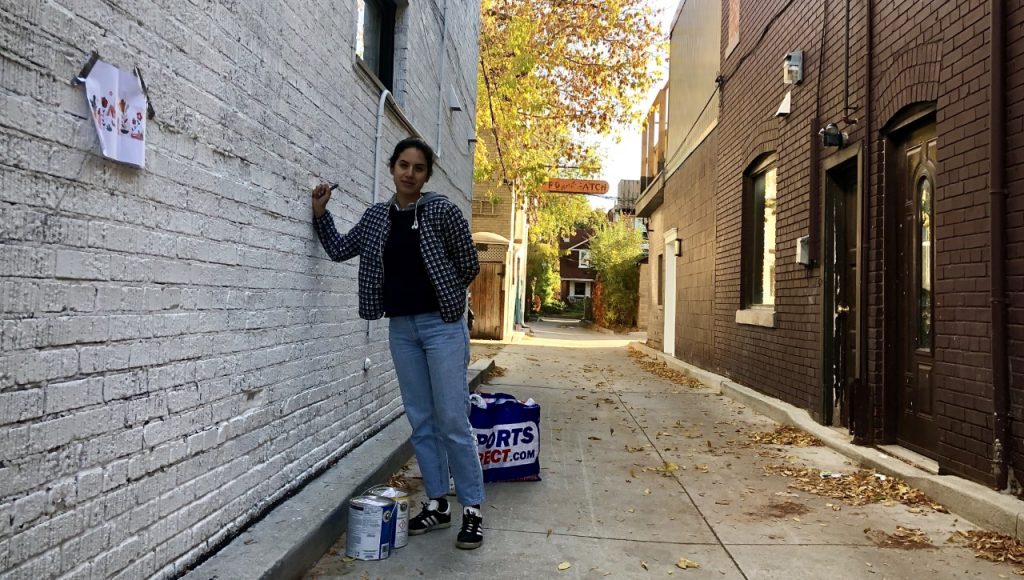 Meet Toronto Mural Artist, Vesna Asanovic
I had the pleasuring of meeting and interviewing and photographing Vesna Asanovic and her fellow illustrator, Vivian Rosas. I talked to them and took these pictures as they painted the alley mural at 387 Jane St. for Archer Dental.  When I first arrived on the scene, Vesna, was hard at work, plotting out the exact location and overall dimensions of the large mural.
Although the sun was up and splashing heat across the rooftops of the surrounding buildings, the alley was still in shadow and rather cool.  Myself, as someone who makes a living regularly working outside, I empathized with her present situation.  Fortunately, the next couple of days were going to be sunny so the work would be done with a minimum of discomfort in regards to temperature. Another interesting observation I had was the course texture of the brick required more paint and more effort than you might think by simply looking at these pictures; every brick needed a brisk and sustained brushing to coat all the angles and ridges.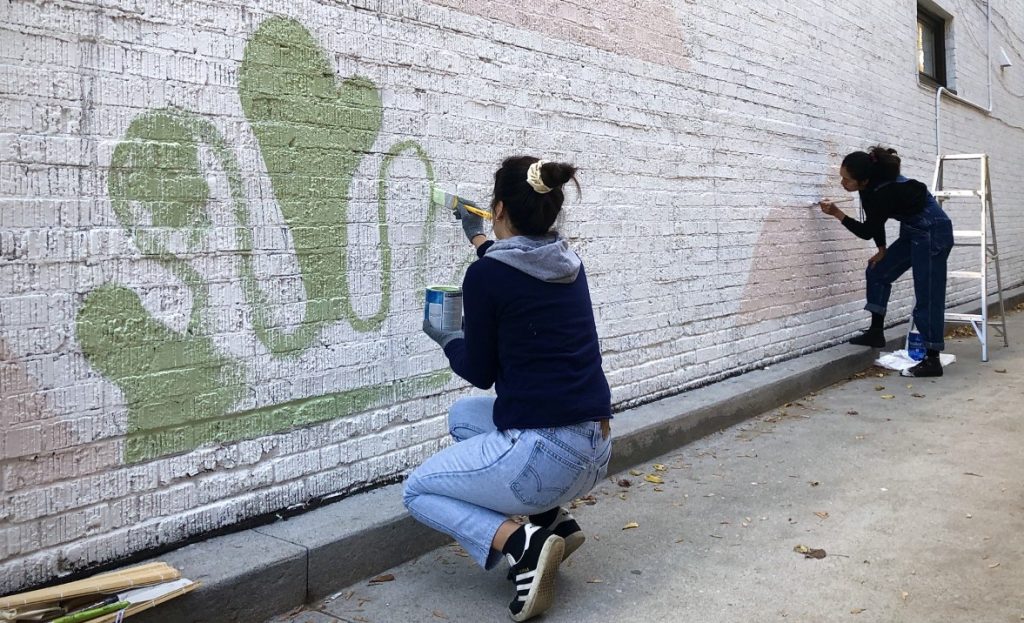 When Vesna was contacted about creating the Archer Dental mural, Dr Archer spoke to her about the vision she wanted to create. She wanted a piece for the community, something that was warm and welcoming, and so Vesna decided to create an image that illustrated the spirit of wellness and nature. Flowers and abstract plants surrounding images of people stretching and smiling are positive and healthy.  The palette is borrowed inspiration from Futurestudio, who did an incredibly job designing the interior of Archer Dental's new space. The salmon and sage mellow out the punchy orange while keeping the palette cohesive with the interior.
Vesna Asanovic is an artist and illustrator living in Toronto who feels privileged to have worked with many clients on lots of different types of projects.  Last year she worked with Macmillan Press and illustrated her first book 'Teen Trailblazers' by Jennifer Calvert.  Some of her editorial clients include The Walrus, Nylon and Shameless Magazine.
This past year Vesna worked on a few public art pieces in both Toronto and Hamilton.  In collaboration with her friend and fellow illustrator, Vivian Rosas, they developed and designed 'Gateway' a city-voted mural on James St. South and again, this past summer the two of them worked with Lake Effect Projects to create an 8-panel piece at the Toronto Ferry Terminals.
Vesna feels like she never actually outright chose to be artist, it just kind of happened.  She grew up drawing as just a hobby and when she graduated from high school it just made sense for her to enroll in Design post-secondary.  Seven years after graduating, she's still doing it and still get excited for new projects that come her way.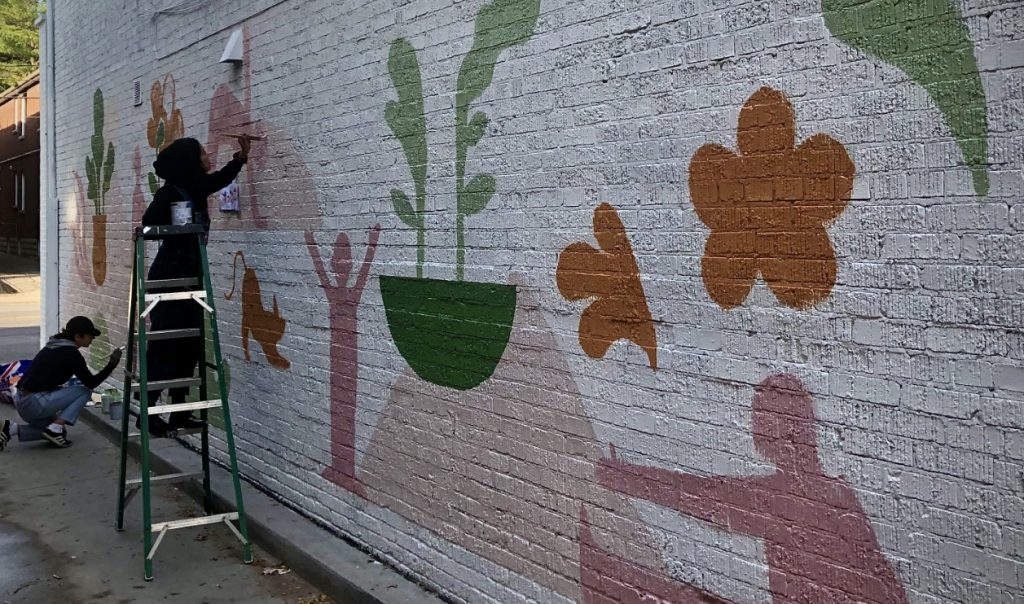 Vesna's mediums range based on the project.  For the Archer Dental mural she used Sherwin William's exterior paint because it was agreed between both parties that they wanted a 'hand-painted' quality rather than a digital production.  Her editorial work is almost exclusively done digitally due to its flexibility.  That said – she regularly draws in my personal sketchbook with a Rodin fountain pen and pencil.
A Good Wall Mural is a Monument to the Community
Over the next two days I repeatedly stopped by, taking photos of the progress and in the final moments of the second day, as she was finishing up the mural.  The setting sun provided a blast of bright light that perfectly illuminated the finished piece and filled the artwork with the magic of this neighbourhood.

Vesna felt that it was an absolute pleasure to work with Archer Dental on this project and hopes that the community enjoys her creation as much as she enjoyed creating it.

This morning as I stepped across the street to get a coffee and croissant from the local patisserie, I watched the children being rushed to school by busy parents and I saw them stop and gaze at the wall in wonder and marvel at the newest art piece that has found its way into their community.