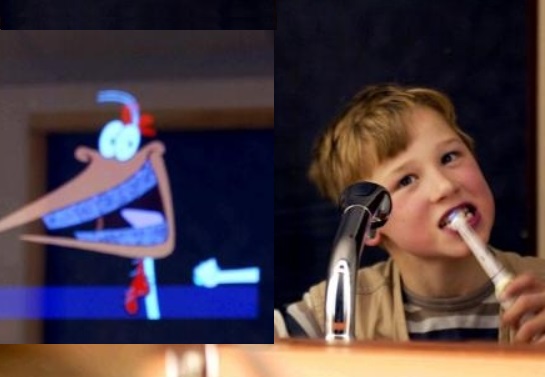 Behold Smart Toothbrushes are here,
Sometimes I can't believe we're living in the year 2014.  But when I see smart dental products for sale in the drug store, I know its true. To me this equipment says, 'Welcome to the future, a world of possibilities'.
Today three manufacturers each claim to have the first smart toothbrush.  Each company calls their product 'smart' by which they mean it collects data to acquire insights into user's brushing habits and then displays that info on cellphone screens. Three separate offerings are now available to consumers.
In a connected world, where everything is data driven and bent on educating users, the bathroom is set to become the foremost personal healthcare center in each family dwelling.  The master bedroom on-suit washroom in particular will probably become the house's #1 wellness portal, and humans will interface with medical technology here using a smart bathroom mirror.  The dispensary will issue all manner of common remedies, first aid equipment and beauty tips.  Such tools available to bathroom users will almost certainly include a smart toothbrush.
That's because the simple act of brushing their teeth is probably the most common health & wellness related activity that human beings perform on a daily basis.  And as time goes on, more and more researchers agree, oral care is an important part of preventive health. The latest research shows many correlations between oral health and overall wellness, and so there's plenty of evidence to suggest that poor brushing patterns can lead to more than just bad teeth.  Not brushing regularly is the biggest cause of cavities and gum disease and this is a problem that smart toothbrushes can easily fix.
Beam Brush is a Smart Manual Toothbrush
Beam Brush claims to be the world's first smart toothbrush that monitors oral hygiene habits and reports them to a smartphone app.  This claim is reinforced by a CNN article about Kolibree which points at the Beam Brush as being the first smart electric toothbrush and one which first went on sale in 2013, making it the first of its kind in the USA.
Beam toothbrush also connects to phones via Bluetooth and records brushing time – however unlike the Kolibree it doesn't track the brush's movements inside the user's mouth. Beam Brush has a small light in the neck that will glow for approx two minutes which is each user's recommended brushing time.*  Later the app will sync the unit with your smartphone and share information. The brush can store up to 49 brushings or about 3.5 weeks worth of data if you brush twice a day.
Test data presented by the app developer shows the average person brushes their teeth for only 45 secs, but over half the respondents demonstrated they were more likely to brush their teeth for a full two minutes if presented with a simple timer.  The Beam Brush app was thus configured for brushing twice a day for two minutes. The user can  set the app to play a song on their phone while they're brushing – this is great for kids. The estimated battery life of the brush is 90 days. The app offers 'Beam Goals' which allows users to set individual oral hygiene targets. Users also have the option to send their brushing information to their dentist.
Beam Brush is equipped with a replaceable head, so multiple heads can thus be paired with one smartphone, a function aimed at parents in particular who want to keep track of their children's brushing habits. In addition, the app alerts the user when it is time to replace the brush head. Extra heads can even be ordered automatically via the phone.
Beam Brush App keeps children engaged through the interactive timer that will play their favorite song while they brush?  and the goals that will give them rewards for great brushing! Big families can use multiple Beam Brushes with one smartphone. Connecting multiple brushes allows users to create goals in which siblings can compete to be the best brusher!
Beam believes that it's simply not good enough just to collect data, but rather the challenge is to display that data in environments where it can reinforce or even cause behavior change. The Beam Brush uses mobile rewards platform Kiip to bring our users real world rewards for demonstrating great brushing habits. Kiip is also 'smart' and learns user's reward preferences over time so they can get more of what they want. Available in pink or blue, Beam Brush retails for $25 and replacement heads are $4 each. One AA Alkaline Battery will last over three months.
Kolibree Smart Toothbrush
Kolibree is a French-based company dedicated to creating connected appliances that make users smarter, more aware and better equipped to improve their own and other people's health and lives. These guys have created an easy-to-use compelling interactive experience around brushing your teeth, and especially comparing family brushing habits and making it all more enjoyable by gaming the exercise.
Kolibree toothbrush was invented by Thomas Serval, a French engineer and something of a name in France's tech industry.  The story is that he was inspired to design it after suspecting that his children were lying to him about whether or not they had brushed their teeth. He wanted proof and so he designed a smart toothbrush to spy on them.
Kolibree is the world's first connected toothbrush, unveiled at CES for the first time in Feb 2014.  This high technology toothbrush is fitted with an accelerometer, gyroscope and a magnetometer, which the company says allows the device to record data, such as the time, duration and frequency of the brush, along with which teeth are properly cleaned, and those that are being neglected.   It's different in many ways than other smart toothbrush devices that are listed in this article; the Kolibree smart toothbrush can analyze each user's brushing habits and then display them on a mobile phone or tablet.
Users' brushing data automatically goes to their phones whereupon the app alerts them if they're brushing long enough, or whether or not they remembered to brush their teeth at all.
Like all the other available models, Kolibree Smart Toothbrush enables users to share their brushing data with their family or even their dentist.  However they can also choose privacy.  The app remembers and tracks up to five profiles and allows users to compare and 'gamify' brushing stats between them on a series of pretty time scaled graphs to award a score for brushing based on time, technique and overall coverage – cool huh.
Bluetooth Oral-B Smart Series electric toothbrush price
Oral-B interactive electric toothbrush with Bluetooth 4.0 connectivity and the Oral-B App will be available in limited quantities in Germany this spring, with a global rollout – including the SmartSeries in June 2014.   The world got its first look at the device back in February 2014 at Barcelona's Mobile World Congress 2014.
At the Mobile World Congress 2014 the Oral-B Smart Series consisted of two models. The Oral-B Pro 6000 which costs about £229.99, and the Oral-B Limited Edition Pro 6500 Smart Series is priced at £249.99.
The new Oral-B App will be available in iOS in May, and in Android in August. The company actually envisions what they call a 'well connected bathroom' with a smart mirror in their advertising, and their trade show displays which are visible in various pieces online.  Dr Natalie Archer saw some of the German marketing in airports while traveling earlier this spring, and she was impacted by the idea. She commissioned me to look into what she thought was the world's first smart toothbrush.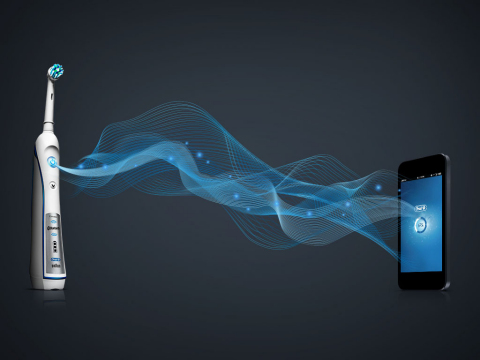 But of course Oral – B is the giant in the room. They're a market leader and their products are expected to be of the highest quality and reflect years of overall testing and performance. They have registered Connected Toothbrush as their product information portal .
The big idea behind the Oral-B app is that it can help keep users motivated and informed while brushing with oral care tips, and even News and Weather information. Its keeps users brushing longer. Oral-B claims that tests of the app show that when connected, brushing time increases from less than 60 seconds with a manual toothbrush, to over two minutes ten seconds with the electric toothbrush, surpassing the dental professions' recommended two-minute brushing time per session. Dentists can also program their brushing routines in the app to help improve patients' brushing behaviours and focus on problem zones within their mouth. The smart toothbrush features a smart app and intelligent Bluetooth 4.0 enabled handle, as well as boasting six customizable cleaning modes.
Will you buy a smart toothbrush? Which one?