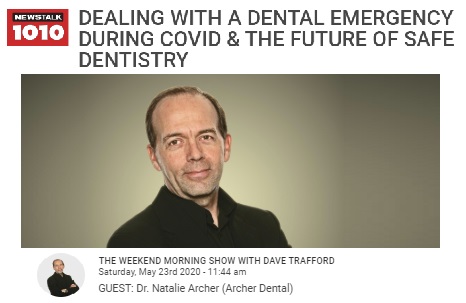 Dave Trafford is easy on the ears and his weekend radio show on CFRB 1010 in Toronto has a wide audience all across Ontario. In the podcast below, dated Saturday May 23rd 2020, Dave interviews Dr Natalie Archer on the challenges facing dentistry in the wake of the COVID-19 global pandemic. Listeners may rejoice to discover it's not all bad news.
Trafford begins the show by describing in his folksy way how Canadian society simply shutdown on or around the 11th of March 2020. He relates how his own dental office called to cancel his appointment and when they asked if he wanted to reschedule it put a spotlight on the awkward question, when?
This is how the CFRB veteran radio host of The Weekend Show segues to introduce his guest, Dr Natalie Archer an 'emergency dentist in Toronto' and the interview begins with what that's like and what constitutes an emergency.
The podcast, Dealing With A Dental Emergency During Covid & The Future of Safe Dentistry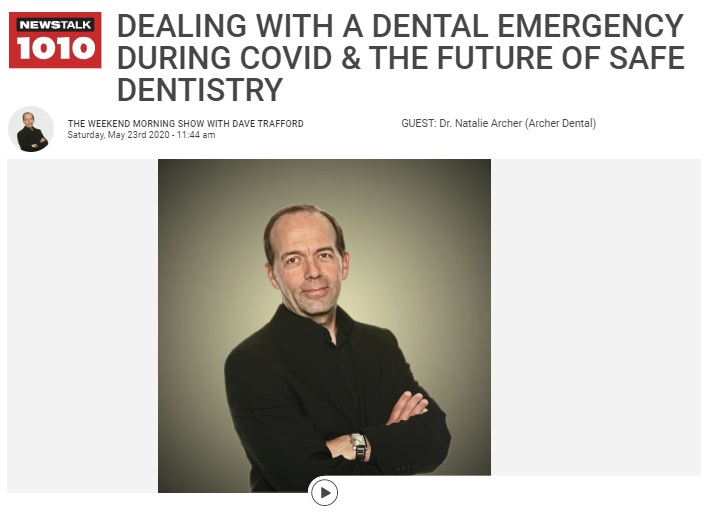 It was a moment in history and something nobody alive today will ever forget; the NBA closed its doors and the Tokyo Summer Olympic Games were postponed and the whole world followed their examples and shut down. Natalie describes her decision-making process to close her three dental offices, and how she didn't have a lot of choice as all dentists in Ontario received instructions from the Royal College of Dental Surgeons of Ontario (RCDSO) which stipulated that clinics could only open in case of emergencies.
Dentistry has high overhead and lots of expenses Natalie explains; there's lots of pricey equipment in modern dental clinics and patient volume is necessary to create a successful business.
What is the Future of Dentistry after Covid-19?
Dr Archer had a lot of ideas on the subject of how oral health care could change in the near future, and how our population could become more health conscious in general. Regarding dentistry she outlined how PPE or Personal Protective Equipment is obviously going to be very important and this is tied directly to the need for EBD, Evidence Based Dentistry and industry-wide reporting.
Teledentistry was an idea that Natalie mentioned next and Dave seized upon as being difficult for dentists. He couldn't imagine how cell phone pictures and the patient's own description of the issue could be beneficial. Dr Archer explained how such practices while not ideal can effectively reduce the duration of the patient's in-person visit when treatment occurs.
And finally Natalie discussed Dental Attendant, an AI chat bot for dental clinic websites that does coronovirus screening of patients via conversational information gathering for a questionnaire and how it answers frequently asked questions.
"What's the most frequently asked question?" Dave asked playfully.
"Is what I'm feeling an emergency?" Natalie replied.
The show ends with Dave imagining he's on a Telehealth call informing the dentist of all his many oral health issues and garbling his voice.