Grandparents Day September 8/ 2013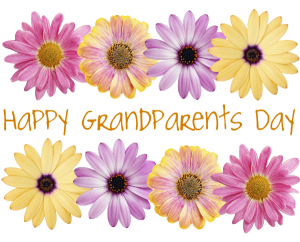 In 1995, the government of Canada passed bill 273 and designated the second Sunday in September Grandparents Day. The day is supposed to acknowledge the importance of Grandparents to the structure of the family in nurturing, upbringing and education of children.
Oral health is important to your appearance and sense of well-being, but is also very important to your overall health. Poor oral health can affect your self-esteem, it can also be linked to sleeping complications. Poor oral health can affect your ability to chew and digest food properly. Proper nutrition helps build strong teeth and gums and helps you fight diseases and promote healing.
Mark it on your calendars Sept 8th/2013 is National Grandparents Day?
Grandparents day always falls on the first Sunday after labour day.
The official flower of the day is the forget-me-not.
In the U.S. the Average age of grandparents is 48 and more than half are Baby Boomers.
According to a 2001 Statistics Canada Report, there are 5.67 million Grandparents in Canada and they each average 5 grandchildren.
Grandparents are a wealth of knowledge, and it is very important that our children understand who they are and where they come from.