What is the D.E.A.R Project?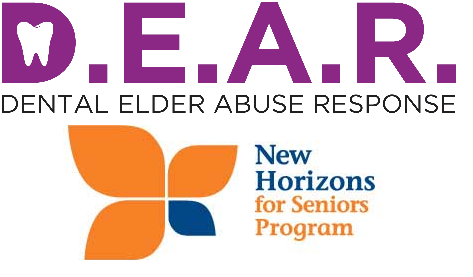 Did you know that Dr. Archer is doing amazing groundbreaking work? Dr. Archer has put in countless hours and research and has received a federal grant from the New Horizons for Seniors Program (NHSP)  for her work in the community based project called –  D.E.A.R. – Dental Elder Abuse Response Project.  The D.E.A.R. Project has 3 goals:
To make seniors, substitute decision makers, family and supporters, dentists and clinicians think about "dental elder abuse" – often for the first time – and have both awareness raised and about the fact that they should be making practical plans about this often hidden or not-thought-of issue
To support people in making advanced plans around dentistry and oral health – reducing the chance of financial elder abuse or physical neglect around dentistry in later life
To bring dentists in the field of elder abuse awareness and prevention for the first time by creating a successful replicable project which can be brought to scale in other public and private clinics across Canada. This goal also includes creating a network of certified dentists concerned about elder abuse, through leveraging the National Initiative of Care of the Elderly (NICE Network's) ability to create a new "Dental Theme Team"
The program will provide seniors and others supporting them with a better understanding and awareness of elder abuse issues, including financial abuse and will support:
Seniors in preventing, recognizing and responding to elder abuse
Seniors to develop training skills relating to elder abuse awareness
Caregivers, substitute decision-makers, family, friends and other persons who support seniors to recognize, report and avoid elder abuse, particularly regarding the intersection of dental health and elder abuse and neglect
Dentists who, as a group, have been very difficult to connect with on this issue.
This is extremely important work and once again she is leading the pack in innovative patient centered care! This project will benefit seniors in the Runnymede Clinic community and others who support seniors in various ways such as substitute decision-makers and caregivers.