Archer Dental Helps Develop the Myant 95 Reusable Mask
We have some exciting news to share. Take a look at something we have been working on since the early days of the pandemic.
On May 21, 2020, we announced that we were working with Myant Inc. to collaboratively develop a new line of personal protective equipment designed to address the tremendous risks that dental professionals face as they reopen their practices to serve their communities in need.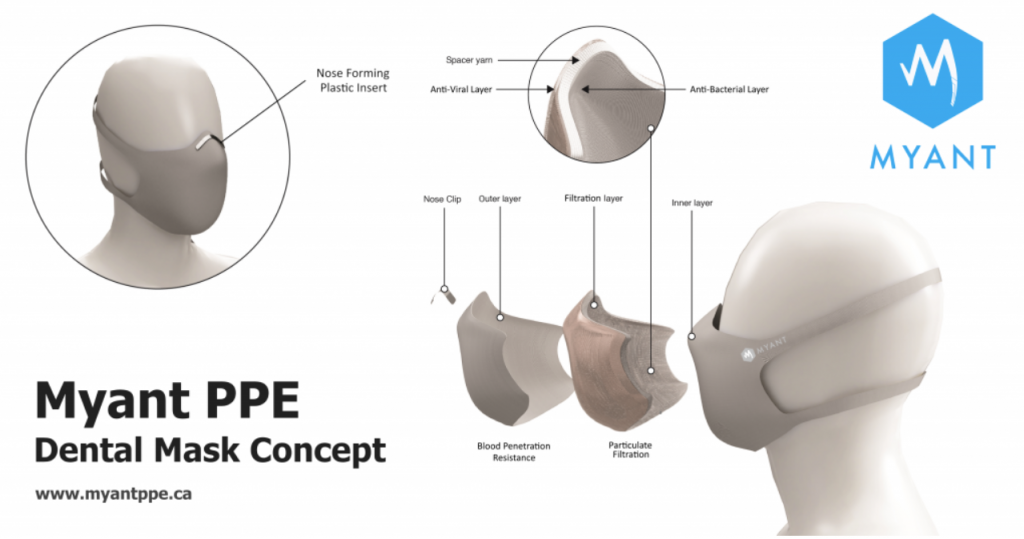 After eight months of work, researchers at this innovative Canadian company have unveiled the Myant 95 Mask. This new textile mask surpasses ASTM Level 1 standards for bacterial and particulate filtration at >95% filtration efficiency, creating a more sustainable alternative to single-use masks rated for the same level of filtration.
The new machine washable textile masks are specifically designed for dentists and dental office support staff who work in critical proximity to patients. They're more comfortable, more efficient, and more professional looking than other face-coverings and they won't fog-up the wearer's glasses. They're also the best possible solution for reducing waste caused by staff wearing disposable surgical masks every shift.
Single-use, ASTM Level 1 standard surgical masks are omnipresent in healthcare settings, and have become widely adopted by the public in the wake of the COVID-19 pandemic. As the epidemic drags on, our reliance on these disposable masks creates a society-wide environmental crisis. Now we have to deal with potentially hazardous, disposable masks piling up in landfills or worse, ending up on streets and other common spaces. Single-use masks present an economic challenge as well, since an average person may go through multiple masks per day, creating escalating costs as the viral outbreak continues without a clear end in sight.
Recognizing the need for a more sustainable alternative to single use surgical masks, Myant and Archer Dental have developed a knitted textile structure that meets internationally recognized standards for bacterial and particulate filtration.
The standards set out by the American Society of Testing and Materials (ASTM, an international standards organization, see ASTM F2100 – 19e1 standard) include threshold levels for bacterial and particulate filtration efficiency.
With performance validated by independent third-party laboratories, Myant has leveraged its expertise with textiles to create a mask that meets and exceeds the ASTM Level 1 requirements for bacterial and particulate filtration.
Myant is on a mission to transform human connectedness. With an extensive patent portfolio, key exclusive relationships within the textile computing industry, a multidisciplinary team of researchers, engineers, data scientists, fashion designers and knitting specialists, and over 80,000 ft² of manufacturing capacity, Myant is changing the way people across society connect. The Myant 95 Mask is in full-scale production at the company's facility in Etobicoke and dentists can order by visiting the Myant website.