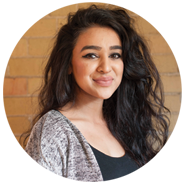 Anna, Administration
Anna Mirza is a graduate of Dental Hygiene, Dental Assisting Level II, and Dental Assisting. She worked for four years as a dental hygienist before taking on her current role in administration.
Anna is a friendly, energetic and social person who loves working closely with clients to help them achieve their goals. She loves helping patients and coworkers alike to be successful in the field she is most passionate about. Her experience working closely with her 4-year-old brother, who has autism, has given her knowledge and experience working with children with special needs. She has learned techniques from both speech therapists and behavioural therapists while helping her brother.
In her spare time, Anna loves being with family and friends. She also loves going to the gym routinely as part of her commitment to living a healthy and fit lifestyle. Her major plan for the future is to travel the world.
Anna is happy to provide service in Hindi, Urdu and Punjabi.
---
Nisa, Dental Administrator
Nisa has been in the Canadian dental industry since 2018. In that time she has gained a lot of experience working with specialists such as endodontists, periodontists, and orthodontists as well as general dentists. A graduate of George Brown College of Dental Administration, Nisa enjoys helping our team wherever possible. She wears a lot of different hats. She's also certified in radiography which means she could be taking your x-rays during your next visit. She's the Waldo of our office; let's see where she shows up next? When not being an energetic comedian at the front desk, she's outside detailing her car, walking her dog, or dining at fancy restaurants around town.
Adriana, Clinical Coordinator
Adriana has 8 years of experience working as an Executive Assistant in various industries from investment banking to architecture and is now using that experience in the dental field. Canadian-born but raised in Ireland, Adriana started her career studying Graphic Design in Dublin before moving back to Canada in 2001. She's excited that her varied career path has led her to the Archer Dental team. Adriana loves working with people and assisting however possible.
Outside of work, Adriana enjoys travelling and cooking. She's had the opportunity to visit five of the seven continents and hopes that more adventures are on the horizon. In her spare time she also writes a cooking blog, "Adriana's Cucina Conquest". When she's not exploring in the kitchen or abroad, she enjoys reading, watching movies, listening to music and volunteering. Adriana lives in Leslieville with her husband Phil and beloved dog Guinness.
Adriana is happy to provide service in French.