D.E.A.R. (Dental Elder Abuse Response) Project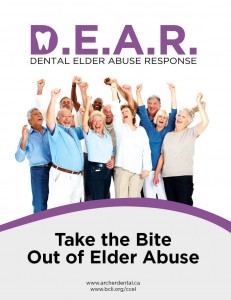 Did you know that as we age our dental health becomes even more important and yet many older adults suffer terrible abuse and neglect related to oral hygiene?
Poor or neglected oral health can be a form of elder abuse and it is a serious issue. Dental elder abuse can cause pain, suffering and illness for the older person. It can even lead to cases of preventable death.
Our D.E.A.R Project is really "taking a bite out of dental elder abuse".  The media attention through Best Dentist Toronto was very important to our work in raising awareness of elder abuse and neglect from a dental perspective.
We held a launch event for D.E.A.R in early 2014 which delivered our message to key community networks.  Media, prominent politicians, and health stakeholders participated including Peggy Nash, MP Parkdale – High Park; Cheri DiNovo, MPP Parkdale – High Park; Dr. Daniel Haas, Dean at the University of Toronto Faculty of Dentistry; and Martin Chartier, the Assistant Chief Dental Officer of Canada.  The event received lots of attention and coverage.